FIRST YEAR: A NOVEL BY J.O. SALLS

What Others Think about First Year

To read the full review click on the Reviewer's Name

"....First Year
should be required reading for every  teacher preparation program, every politician, and most especially for every "education reformer" who thinks they have all the answers for public education...." 
Joan Kamila Lewis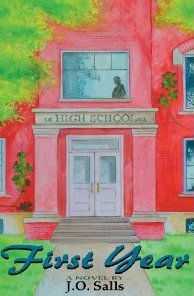 "....
This book isn't for everyone.  You should only read it if you have children, grandchildren, or if you live in a world populated by graduates (or dropouts) from a modern high school..."
Brent Olson
"
Dear J. O. I blame you totally.  Since I began reading your novel my sleep pattern has been totally altered. The lack of sleep caused extreme fatigue....I can't wait for the movie. I also hope you do not make me wait another 35 years for your second novel."
Randy Stattelman
"
YESTERDAY, I completed
First Year. 
I was honestly spellbound as Robert battled first to gain control of his classes and then to enlighten them; as Kyle and Gail struggled with issues that confront dedicated teacher-to-non-teacher marriages; as Greg Schwartz grew from good teacher to excellent teacher and thoughtful human being; as Superintendent Alan Anderson redefined himself; as Principal Sam Strand fought to hold his school together while confronting the issue of retirement.  After spending forty years of my life in education as a teacher, administrator and school board member, I recognized each of these people as friends I had known and loved and replaced the fictional characters' names with those of my friends...."
Roger Stoufer
"...
As a college instructor for more than a decade, I read
First Year
buoyed up by Salls' obvious love for students, educators, and his calling. I read with shocks of recognition, triggered by his keen observations and insights. I read with sadness, as well, because
First Year
realistically depicts the tolls teaching takes on those who care about this honorable calling." 
Anne Erickson
    "Reading this novel was gut-wrenching at times, but it was also exhilarating...the truth is well carried and transmitted by the fiction.

...Count J.O. Salls among those prophets.There are people that have chosen the teaching profession for other reasons, but this novel gives them short shrift – almost assuming that they don't do anything to be worthy of the title or that they get out of the field very quickly. The ones that stay and teach must love – teaching – students – one another."   
Art Pryzbilla
   "Salls skillfully weaves alternating strands of several characters' lives into a fascinating story with a moral:  mentoring beginning teachers is essential and will not happen by chance.  "First Year" is a tragic case study of most everything that can go wrong... The story is both wrenching and also extremely perceptive on a number of issues: domestic violence, alcoholism, divorce, racism, unemployment and assorted psycho-social problems.....This story rings all too true... " 
Rep. Mindy Greiling,
"
All I can say is, WOW! ...
[First Year
] is tight, beautifully written, and I cared so much about the characters, I hated to leave them. When I purchased the book after listening to a brief reading, I expected to like it, but not love it."
Joelie Hicks
".

"I wish I had this book when I started teaching.  I am a very good teacher, but discipline is not my greatest asset.  My classes liked me, but I didn't have their respect and obedience....Also, I was teaching at a time when Ross Perot had decided that if a child failed, it was the teacher's fault.  I had a kid in my class whose parents were alcoholics.  Of course, he never did his work....   I decided to leave the public school system and teach overseas. I taught in Tunisia under the French system where the teacher is Always Right!"
Murph Elliott