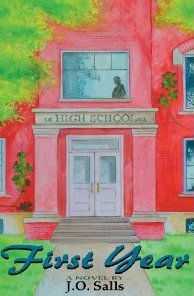 FIRST YEAR: A NOVEL BY J.O. SALLS

It is not surprising that First Year the first novel by J.O. Salls is in many ways similar to Staggerford the first novel of the late Jon Hassler. The two writers share a background of teaching English in a variety of settings but particularly teaching high school English in small-town northern Minnesota. Both undoubtedly advised their students to "find your voice and write about what you know." Both followed their own advice – they wrote about teaching. Hassler did so in a direct storyteller voice dealing with one week in the life of a small town.

Salls gives us one school year in the life of a beginning teacher, Robert Baker, through the eyes of nine different narrators including fellow teachers, their principal, prized students, troubled students, a faculty wife and Baker himself. This style, which at times evokes Faulkner, quickly captures the reader's attention and fosters the understanding and sympathy for almost all of the characters. This approach shows a depth of understanding on Salls' part that would probably be impossible for anyone that only passed through school as a student..

Reading this novel was gut-wrenching at times, but it was also exhilarating, and though (as with Hassler) there is some romanticizing that probably could have been muted or left out completely, the truth is well carried and transmitted by the fiction.

One of the lesser known books by Jon Hassler is entitled Churches of Minnesota in which Jon wrote a commentary to accompany some great photographs by Doug Ohman. Jon's last comment ends with these words:

Witnessing a religious service I feel that I belong to a group of people that has striven to keep alive for thousands of years, the three word message that God had to send prophets and His Son to earth to utter it – love one another.

Count J.O. Salls among those prophets.

There are people that have chosen the teaching profession for other reasons, but this novel gives them short shrift – almost assuming that they don't do anything to be worthy of the title or that they get out of the field very quickly. The ones that stay and teach must love – teaching – students – one another.

If this is too romantic, so be it.

Art Pryzbilla  taught at Silver Bay High School and Rainy River Community College in Minnesota. His book Ojibwe Tales: Stories of the Ojibwe People won a 2004 Northeastern Minnesota Book Award. 

.