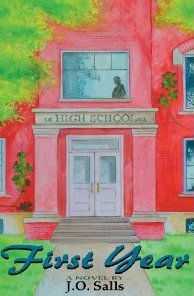 FIRST YEAR: A NOVEL BY J.O. SALLS

March 12, 2011

Dear John,


I wish I had this book when I started teaching.  I am a very good teacher, but discipline is not my greatest asset.  My classes liked me, but I felt as if I did not have their respect and obedience.

Also, I was teaching at a time when Ross Perot had decided that if a child failed, it was the teacher's fault.  I had a kid in my class whose parents were alcoholics.  Of course, he never did his work.  I was called into the Principal's Office and the Guidance Counsellor's Office to be reprimanded.  I really liked the student and I was sad about the whole deal. 

With the frustration of my low skills in discipline and everything being the teacher's fault, I decided to leave the public school system and teach overseas.

I taught in Tunisia under the French system where the teacher is Always Right!  If there was any trouble in the classroom, the Principal would come to talk to the students and this worked well, especially for me!

I hope your  book is successful.  We desperately need good teachers in the public schools.  This is a major problem in our society!
Murph Elliott

Retired Teacher

Dallas, Texas