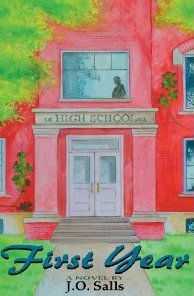 FIRST YEAR: A NOVEL BY J.O. SALLS

   Review by Brent Olson

J.O. Salls new book, First Year, is a powerful, disturbing, look at life in a modern school not so very different from the one your children attend.  Mr. Salls' vast experience as an educator lends compelling weight and insight to his depiction of life inside the classrooms, offices, and teacher's lounge.

As I read this book, I kept thinking about Upton Sinclair's The Jungle, another book that told us things we would have preferred not to know.  Education requires a partnership between parents, teachers, students, and administration.  The only thing that is required to make it work is for all parties to keep in mind the tings that really matter.  Sadly, in too many cases, some or all of those involved have lost their entertaining, engrossing, call for a return to sanity and reasonable priorities.

This book isn't for everyone.  You should only read it if you have children, grandchildren, or if you live in a world populated by graduates (or dropouts) from a modern high school.

Brent Olson, Columnist and Author

Independently Speaking